Our Curriculum
At Hazelwood, we recognise the important part our children play in shaping the future of our world. Our aim is to ensure that throughout their time at Hazelwood, our children are nurtured to become responsible and respectful citizens who have gained the knowledge, skills and experiences to give them the confidence to thrive in whatever the next chapter holds for them. ​
Our school has a rich diverse community with many different social, cultural and religious backgrounds. Our Hazelwood curriculum is designed to reflect and celebrate our uniqueness and differences as well as flourish as a whole school community in line with our vision and values: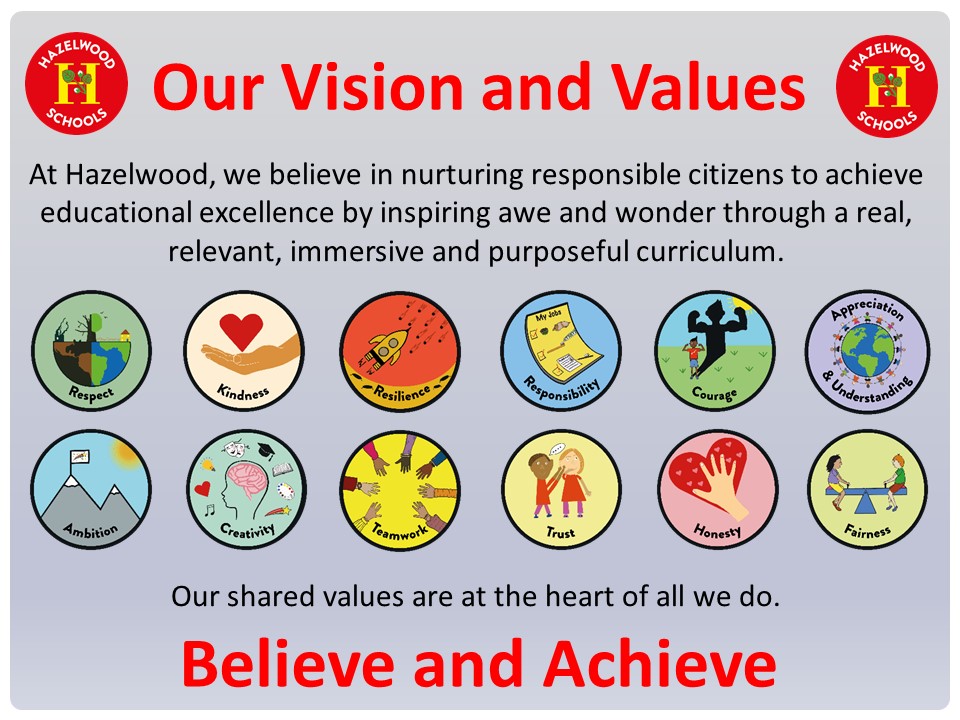 By the time our children leave Hazelwood in Year 6, we strive to ensure that they have:
Established themselves as nurturing responsible citizens within the school and wider community
Strong subject knowledge across all curriculum disciplines with a broad range of vocabulary that enables them to express themselves confidently and communicate effectively in both spoken and written English
Appreciation and understanding of the diverse world we live in and their place in the global community
Embedded values that support and guide their thinking and behaviours to enable them to succeed in life both socially and academically
Developed a positive sense of themselves with the knowledge, skills and strategies to support them in staying safe and happy in the wider world.
Experienced "awe and wonder moments" through our real, relevant, immersive and purposeful curriculum, contributing to a life-long love of learning
The belief that they can achieve educational excellence in all that they do
At Hazelwood, we use a range of strategies in order to achieve the above aims for each and every one of our children.
For more information, please see the individual subject areas of our curriculum on our website.