Maths
AT HAZELWOOD SCHOOLS, WE BELIEVE THAT MATHS IS AN ESSENTIAL PART OF EVERYDAY LIFE. LEARNING IS, THEREFORE, FOCUSED ON CHILDREN SECURING A STRONG CONCEPTUAL UNDERSTANDING OF MATHS AND DEVELOPING THE SKILLS AND SELF-CONFIDENCE REQUIRED TO APPLY THEIR MATHEMATICAL KNOWLEDGE TO CREATIVELY SOLVE PROBLEMS.
The aims of our Mathematics curriculum are:
To promote enjoyment of learning through practical activity, exploration and discussion
To promote confidence, enthusiasm and a sense of achievement
To promote a high standard in Maths and a range of mathematical skills
To develop the ability to solve problems through decision-making and reasoning in a range of contexts as well as within routine and non-routine problems
To develop a practical understanding of the ways in which information is gathered and presented
To explore features of shape and space and develop measuring skills in a range of contexts
To calculate accurately, both mentally and with pencil and paper, drawing on a range of calculation strategies
To understand the importance of mathematics in everyday life
To encourage pupil voice to justify and reason in mathematics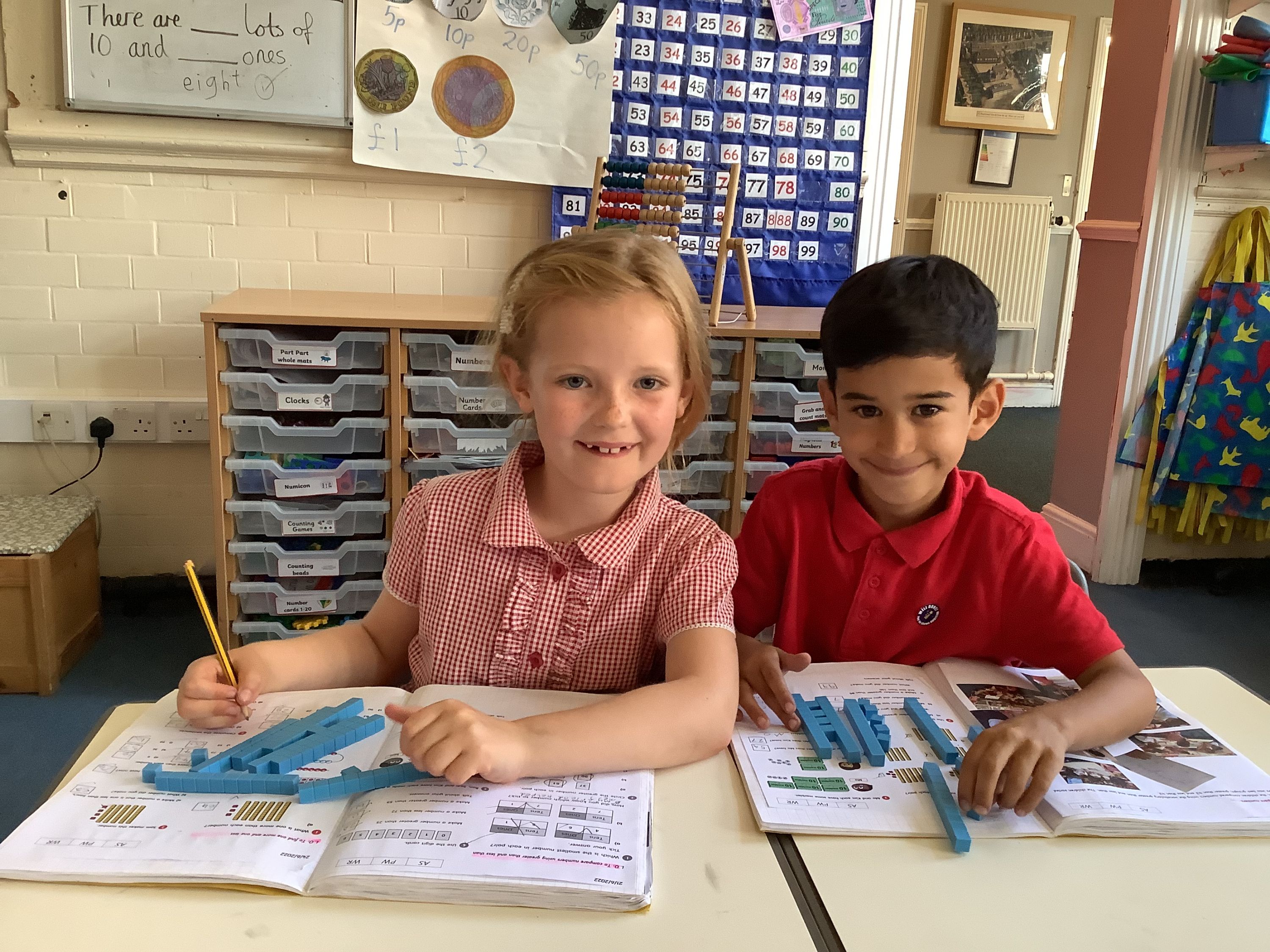 The expectation is that the majority of children will move through the Maths programmes of study at broadly the same pace. However, decisions about when to progress should always be based on the security of children's understanding and their readiness to progress to the next stage.
Children who grasp concepts rapidly should be challenged through rich and sophisticated problems before any acceleration through new content. Those children who are not sufficiently fluent with earlier material should consolidate their understanding, through additional practice, before moving on. (National Curriculum, 2014)
We use a variety of curriculum resources to support this mastery approach, including White Rose Maths Hub schemes of work, Nrich and NCETM (National Centre for Excellence in the Teaching of Mathematics) resources which ensure continuity and progression in the teaching of Mathematics.
A video explaining how to solve column addition Solving column addition with decimals
A video explaining column multiplication Solve long multiplication

Maths Workshops
It was lovely to see so many people at our Maths Workshops.
Slides and resources have been added to the bottom of this page.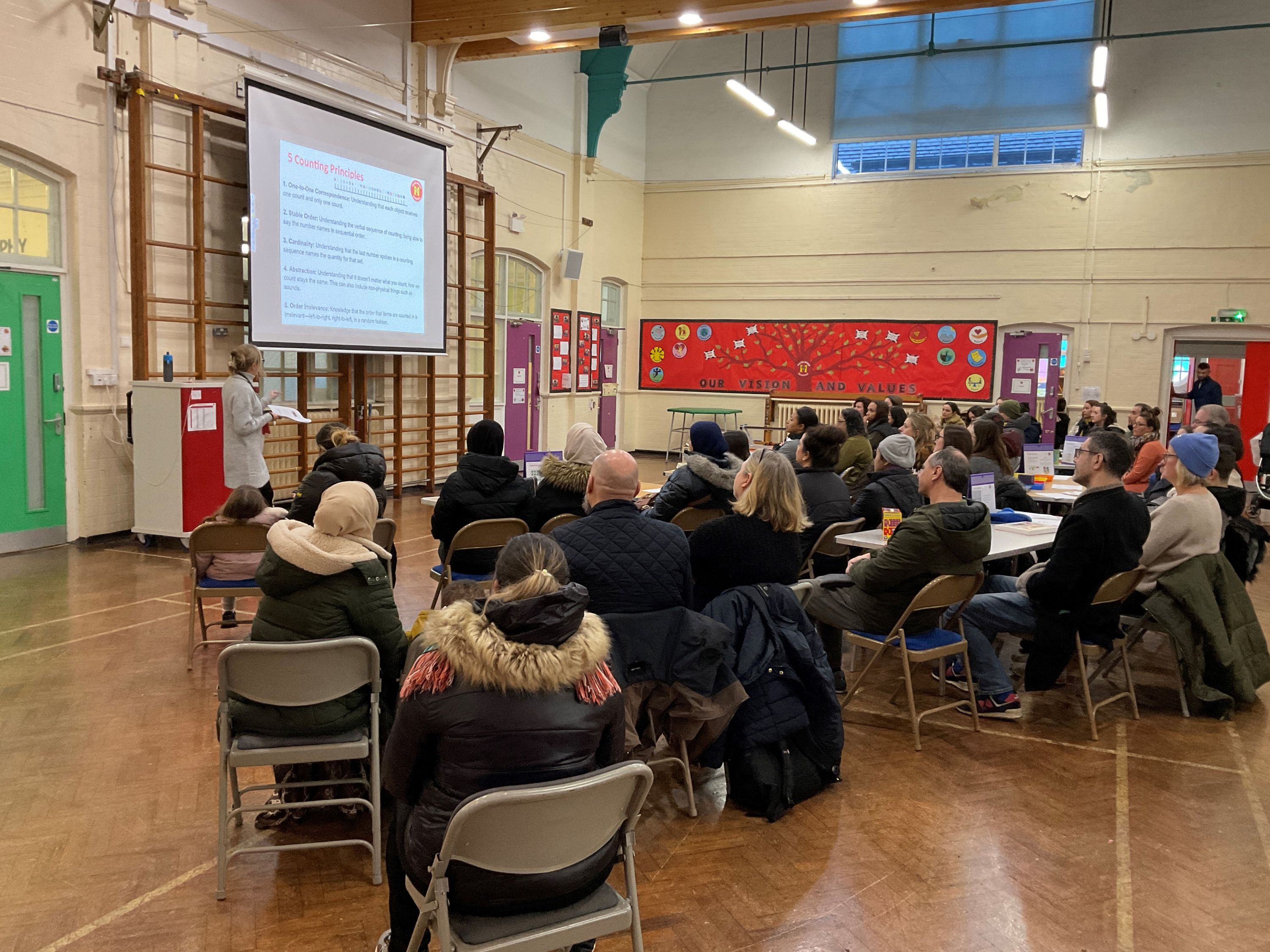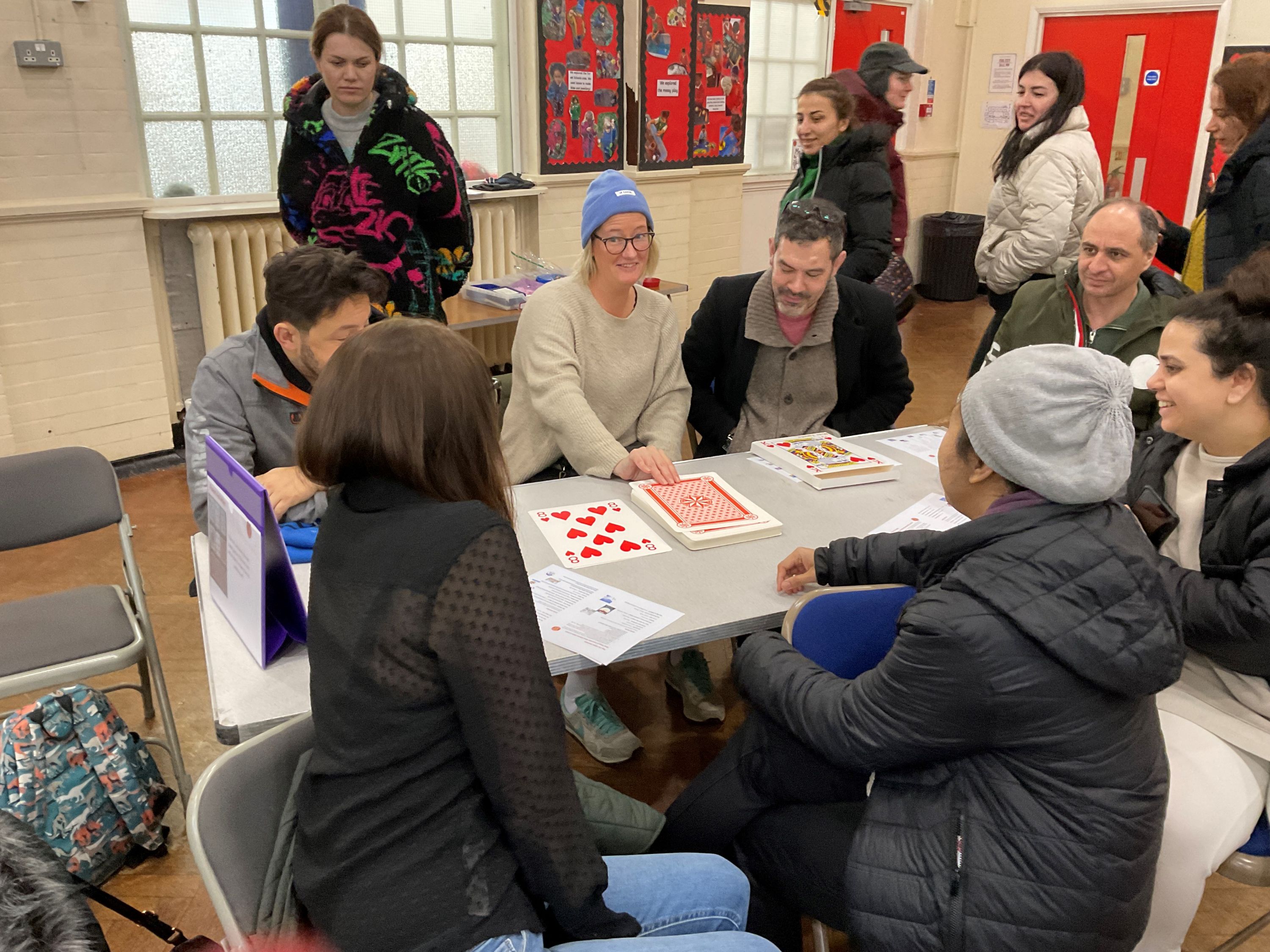 Year 5 Higher Level Maths Competition - 01.03.2023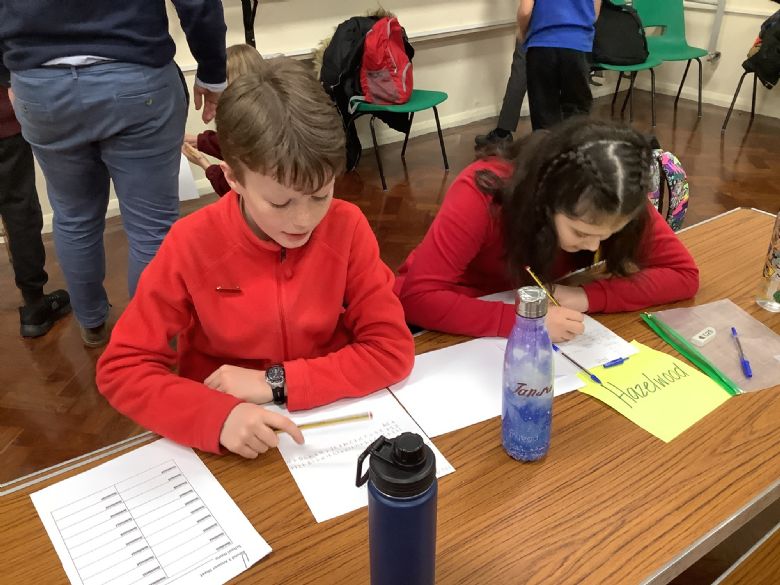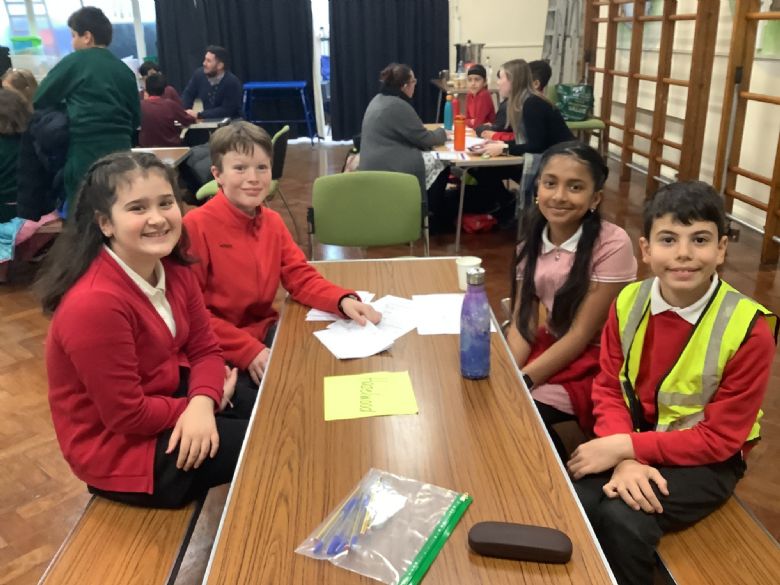 On Wednesday 1st March, four very talented mathematicians Year 5 pupils represented Hazelwood in the Higher Level Maths Competition at St Monica's Catholic School against 10 other local schools. They were all lucky enough to be immersed into a whole afternoon of higher-level maths as they attempted to solve a series of complex questions and challenges and really put their problem-solving skills to the test! A massive well done to Edmund, Beyza, Tahira and Yusuf who all represented our school fantastically in the competition by demonstrating our Hazelwood Values of Courage, Teamwork, Ambition and Respect throughout the afternoon. Well done Year 5!
Year 6 Higher Level Maths Competition - 08.02.2023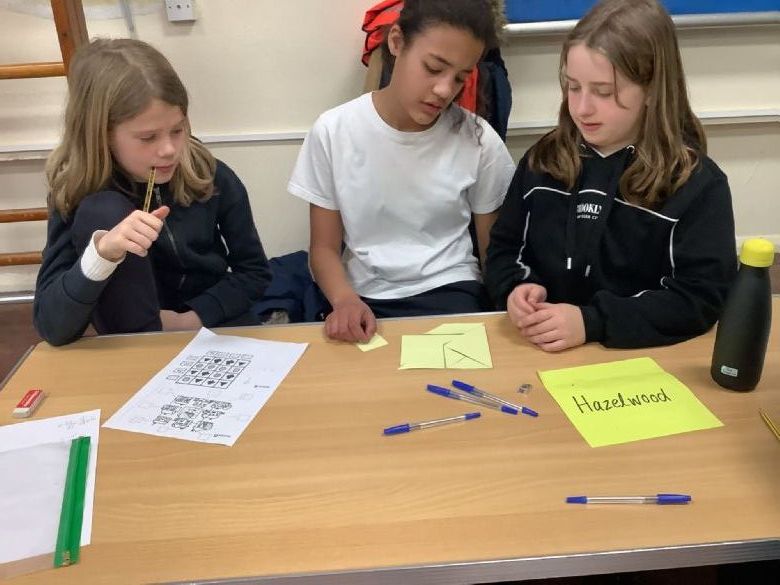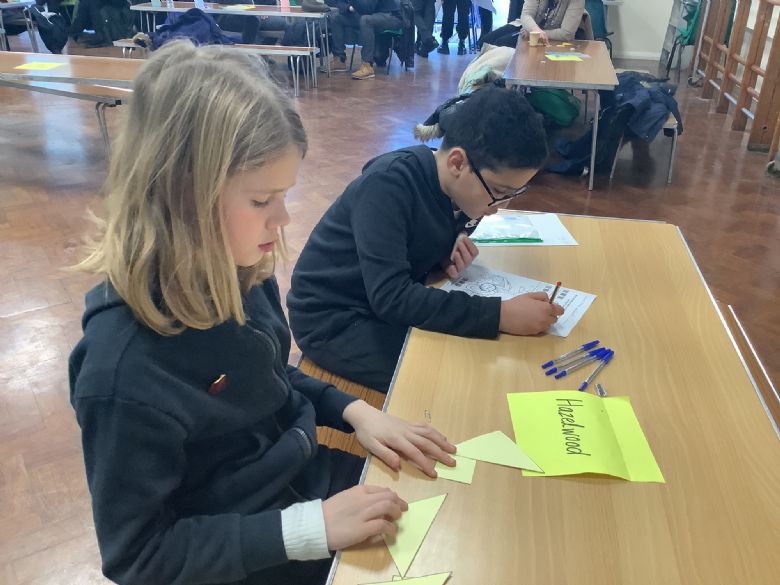 On Wednesday 8th February 2023, four Year 6 pupils represented Hazelwood in the Higher Level Maths Competition at St Monica's Catholic School. After being warmly welcomed by our hosts, our children were soon immersed into an afternoon of maths and attempting to solve a series of complex problems and tasks while demonstrating many of our Hazelwood Values, especially fantastic teamwork throughout the competition! Despite not being the winning school on this occasion, Evie, Amro, Noah and Nell all did Hazelwood proud and thoroughly enjoyed their afternoon of problem-solving. Watch the action here!