EMS Spring Sounds festival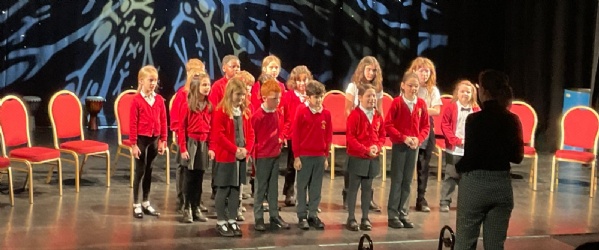 The Juniors Choir represented Hazelwood at the EMS Spring Sounds Festival this week.
On Tuesday 7th March, the Enfield Music Service hosted their annual Spring Sounds Festival at the Millfield Theatre. Due to the pandemic, this was the first time that this event had taken place in four years. The Spring Sounds Festival is a fantastic event to share musical talent from primary schools within the borough of Enfield. At this year's event, the Hazelwood Juniors Choir performed three songs they had been learning and developed their performing skills by being in a theatre environment. Other ensembles included a Djembe group, a brass ensemble, a Samba club and other choirs. The children were inspired by the performances from Woodpecker Hall Academy, Bowes Primary School, Chesterfield Primary School and Raglan Primary School and came away with lots of ideas for Hazelwood's Music provision. A big well done to all the performers and thank you to all the parent helpers and family members who attended the event. The Juniors Choir's next performance will be at the Spring Music Festival at Hazelwood on Wednesday 29th March at 2pm. More information to follow, soon.